FROM NEWSLETTER SENT 6/24/2013

THE WILL TO ADORN:

African American

Diversity,
Style, and Identity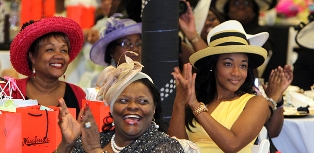 Congregants from the Alfred Street Baptist church
enjoy a Mother's Day hat fashion show in Washington,
D.C., 2012.
Photo by Sharon Farmer, courtesy of
National Museum of African American History and Culture
What is African American about African American dress and body art and why does it matter?

African American traditions of dress and body adornment are creative expressions grounded in the history of African-descended populations in the United States. Visit the Smithsonian Folklife Festival to learn more!

Smithsonian Folklife Festival
June 26

— 30, 2013 &

July 03

— 07, 2013
National Mall, Washington DC
If you are already a Charter Member, would you consider helping us with

another donation

today?