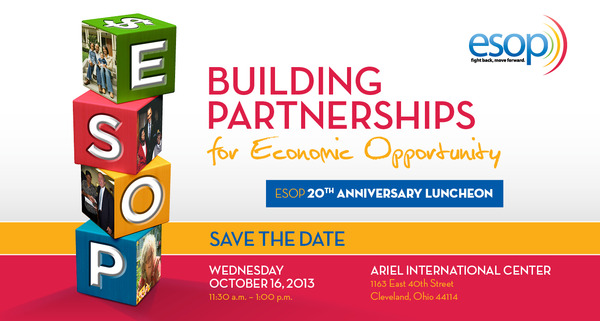 .
For 20 years Empowering and Strengthening Ohio's People ("ESOP") has worked tirelessly to empower people to improve their lives and communities. ESOP's work over the last two decades to end predatory lending and abusive mortgage servicing and to prevent foreclosures has helped thousands of families across Ohio to stay in their homes and to stabilize neighborhoods.
We invite you to join us Wednesday, October 16th for our 20th Anniversary Luncheon. The theme is "Building Partnerships for Economic Empowerment." We hope you can join us for this important conversation about how the non-profit, public and private sectors can join forces to help disenfranchised communities move forward from the foreclosure crisis.
Keynote Speaker
Senator Sherrod Brown
Sponsorship opportunities are still available. For more information on sponsorships, table and advertising purchases please contact Deonna Kirkpatrick
at
216-361-0718
or
dkirkpatrick@esop-cleveland.org
.