SHERROD BROWN NEWSLETTER :
Healthcare Law Helps Seniors Save on Drug Costs
Seniors have saved millions of dollars on prescription drugs as a result of the health care law – the Affordable Care Act (ACA). This law has enabled Ohioans in the so-called "donut hole" – the period of time when private Medicare insurance no longer covers prescription drugs – to save millions on prescription drug costs. Prior to the health law, the donut hole left seniors with huge out-of-pocket costs that may cause them to have to choose between medicine and food. Over the past three years, the added coverage for seniors as a result of the health law has saved Americans $5.7 billion nationwide.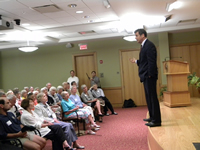 "
Ohio's seniors have worked hard, paid into Medicare, and deserve health care options that truly meet their needs," Brown said. "Under the health law, coverage for our seniors continues to improve."


The new health law has also helped put money back in patients' pockets. In 2010, thanks to the health law, Ohio seniors who hit the coverage gap "donut hole" received a one-time $250 rebate. In 2011, Medicare recipients began receiving a 50 percent discount on covered brand name drugs. Seniors in the "donut hole" also saw additional coverage of generic drugs costs. Coverage for both brand name and generic drugs in the gap will continue to increase until 2020, when the coverage gap will be eliminated. Ohio seniors have saved over $278.7 million on prescription drugs since the passage of the health law with an average per beneficiary savings of $774.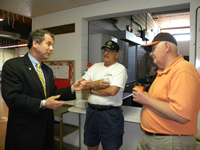 These added benefits have helped guarantee that seniors and people with disabilities receive the medicine and care they deserve after years of hard work. Covering the Medicare "donut hole" is just one of the many ways the health law is benefitting Ohioans.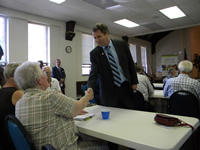 Also thanks to the health law, seniors have access to free preventive services. These services include cancer screenings, such as colonoscopies and mammograms, and an annual wellness visit. Because cost barriers have been removed, more than 903,000 Ohioans with traditional Medicare took advantage of at least one preventive service in 2012. Because of Medicare, nearly 98 percent of seniors have health coverage and more than 90 percent live above the poverty line.
Senator Brown will continue to make sure Ohioans – especially seniors – receive the health care they deserve.