Senator Sherrod Brown Newsletter:
Promoting Comprehensive Mental Health Services
Mental illness touches all of our lives, as about one in four adults has some form of a mental disorder. But too often health services are not readily available when a person with mental illness encounters the criminal justice system. That's why Senator Sherrod Brown joined 18 of his Senate colleagues in introducing bipartisan legislation that will improve access to mental health services for people in the criminal justice system.


"Siblings, parents, children, and friends may be living with depression, an anxiety disorder, bipolar disorder, or another mental illness," Sen. Brown said. "That's why we must remain committed to addressing mental health concerns throughout Ohio and the nation."
The
Justice and Mental Health Collaboration Act
would continue support for mental health courts and crisis intervention programs by reauthorizing the
Mentally Ill Offender Treatment and Crime Reduction Act
. It would also help veterans in crisis by investing in veterans treatment courts. These are specialty courts designed to serve arrested veterans who suffer from PTSD, substance addiction, and other mental health conditions. Additionally, this legislation would promote proven corrections-based programs with transitional services that can reduce recidivism rates. Lastly, it would develop curricula for police academies and training programs so that law enforcement professionals are more ably equipped to respond to individuals with mental illness.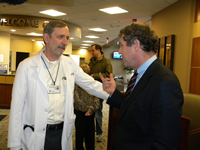 This legislative proposal is the latest example of Senator Brown's commitment to addressing mental health concerns. In 2008, Congress passed the bipartisan
Mental Health Parity and Addiction Equity Act.
This law prohibits insurance companies from arbitrarily limiting the number of hospital days or outpatient treatment sessions a patient is granted, as well as prohibiting higher copayments or deductibles for subscribers who seek psychological services. This law has yet to be fully funded and implemented. That is why in December 2012, Senator Brown joined a letter to President Obama asking him to fully implement the law.


The Obama health law, which Sen. Brown also voted for in 2010, is working to improve access to mental and behavioral health services. This law immediately eliminated pre-existing coverage exclusions for children. Kids are no longer being denied coverage – or have services excluded from coverage – as a result of pre-existing conditions. Senator Brown has long held that it is crucial that young adults with existing or emerging mental illnesses not experience lapses in coverage that are common as young adults enter college or the workforce. This is a time of high risk which we cannot afford to ignore.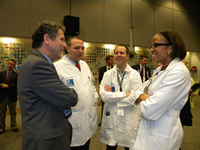 And, beginning in 2014, insurance companies will no longer be able to deny coverage to individuals with mental illness, and insurers cannot use mental illness as a reason to raise premiums.
The Department of Health and Human Services (HHS
) also established an essential benefits package – a set of health care service categories that must be covered by most plans – that will take effect in 2014. Mental health and substance abuse disorder services are part of this package.
In this time of shrinking budgets and increased economic stress on individuals, we cannot afford to ignore the needs of Americans with mental health and substance abuse problems. The
Justice and Mental Health Collaboration Act
is the next step in ensuring that all Americans have access to the mental health services they need.