NMAAHC public programs in March and May 2013
Envisioning Emancipation: Black Americans and the End of Slavery, A Conversation between Deborah Willis and Lonnie Bunch
Monday, March 25, 2013, 7:00 pm

National Museum of American History, Warner Bros. Theater
14
th
Street and Constitution Avenue, NW
Washington, DC
First floor, enter through Constitution Ave doors
Metro: Smithsonian or Federal Triangle
Lonnie Bunch, founding director of the National Museum of African American History and Culture, will moderate a discussion with Deborah Willis, chair of the Department of Photography & Imaging at the Tisch School of the Arts at New York University, about her latest work Envisioning Emancipation: Black Americans and the End of Slavery. The publication is a collaboration with Barbara Krauthamer, professor of history at the University of Massachusetts, Amherst. Through rare photographs and documents, the book focuses on black enslavement, emancipation and life from 1850 to1930. Recipient of Guggenheim, Fletcher and MacArthur fellowships, Willis is a founding member of the museum's Scholarly Advisory Committee.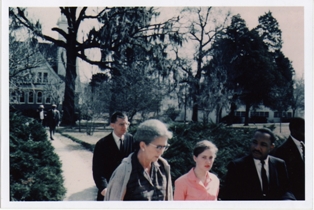 Joan Trumpauer Mulholland walking beside
Dr. Martin Luther King, Jr.
An Ordinary Hero: The True Story of Joan Mulholland,
film screening and discussion
Wednesday, March 27, 2013, 7:00 pm to 9:30 pm
The Artisphere
1101 Wilson Blvd.,
Arlington, VA 22209
Joan Trumpauer Mulholland grew up in the segregated South and emerged as an activist who fought fervently for the rights of others. Attacked and beaten during the courageous Freedom Rides of 1961, Joan was imprisoned and hunted but never wavered in her beliefs. An Ordinary Hero is a moving chronicle of Mulholland's life, containing rare images and footage from the Civil Rights Movement. Following the film will be a panel discussion featuring Mulholland, her son, Loki Mulholland, who is the writer and director of the film, and William Pretzer, Senior Curator of History at the Smithsonian's National Museum of African American History and Culture (NMAAHC). Co-sponsors of the event are NMAAHC and the Arlington Public Library.
On Art and History: Natasha Trethewey Reads and Discusses Native Guard
Monday, May 6, 2013, 7:00 pm
National Museum of American History, Warner Bros. Theater
14
th
Street and Constitution Avenue, NW
Washington, DC
First floor, enter through Constitution Ave doors
Metro: Smithsonian or Federal Triangle


Natasha Trethewey, appointed the U.S. Poet Laureate in June 2012, will read from her Pulitzer Prize-winning collection of poems titled Native Guard. Trethewey gives an impressive interpretation of the Native Guard, one of the first mostly black regiments to fight in the Union Army. The Native Guard was composed mostly of former slaves who enlisted and were assigned to guard Confederate prisoners of war. According to Trethewey's poem "Elegy for the Native Guards," the presence of the African American soldiers has gone unrecognized. She also explores her life from the mid-1960s through the early 1980s, a time of tremendous upheaval in Mississippi. Native Guard provides a thoughtful, long view of a tumultuous century in American History. The Rising Star Fife and Drum Band led by Sharde Thomas of Sardis, Miss., will open and close the program.
If you are already a Charter Member, would you consider helping us with

another donation

today?